This Bitcoin to the Moon T-shirt is exactly what you have been looking for. It gives you a comfortable feeling on your body because it's made from 100% premium cotton and it has a light feel.
Whenever you go out or sit somewhere while trading your favourite Bitcoin cryptocurrency or altcoins, wearing this super-soft t-shirt brings confidence.
It's a great conversational trigger point when talking to friends or to anyone else about Bitcoin. Because everyone will notice the Bitcoin symbol and the rocket which symbolizes the determination of your belief.
This beautiful premium tee is:
100% premium cotton
Pre-shrunk
Breathable
Absorbent
Comfortable
Soft
And most importantly:
Eventually, it's the testimony that you are an expert and enthusiast.
Moreover, it reflects you as a person who has excessive enthusiasm and expertise about Bitcoin, cryptocurrency and future of money.
And this is exactly why you desire to buy our Bitcoin t-shirt because you will be showing the world who you really are.
T-shirt Size Guide Bitcoin to the Moon
Please carefully measure and choose your size according to the charts below.
Because your t-shirt will be printed after the order and we are unable to accept returns for a size replacement.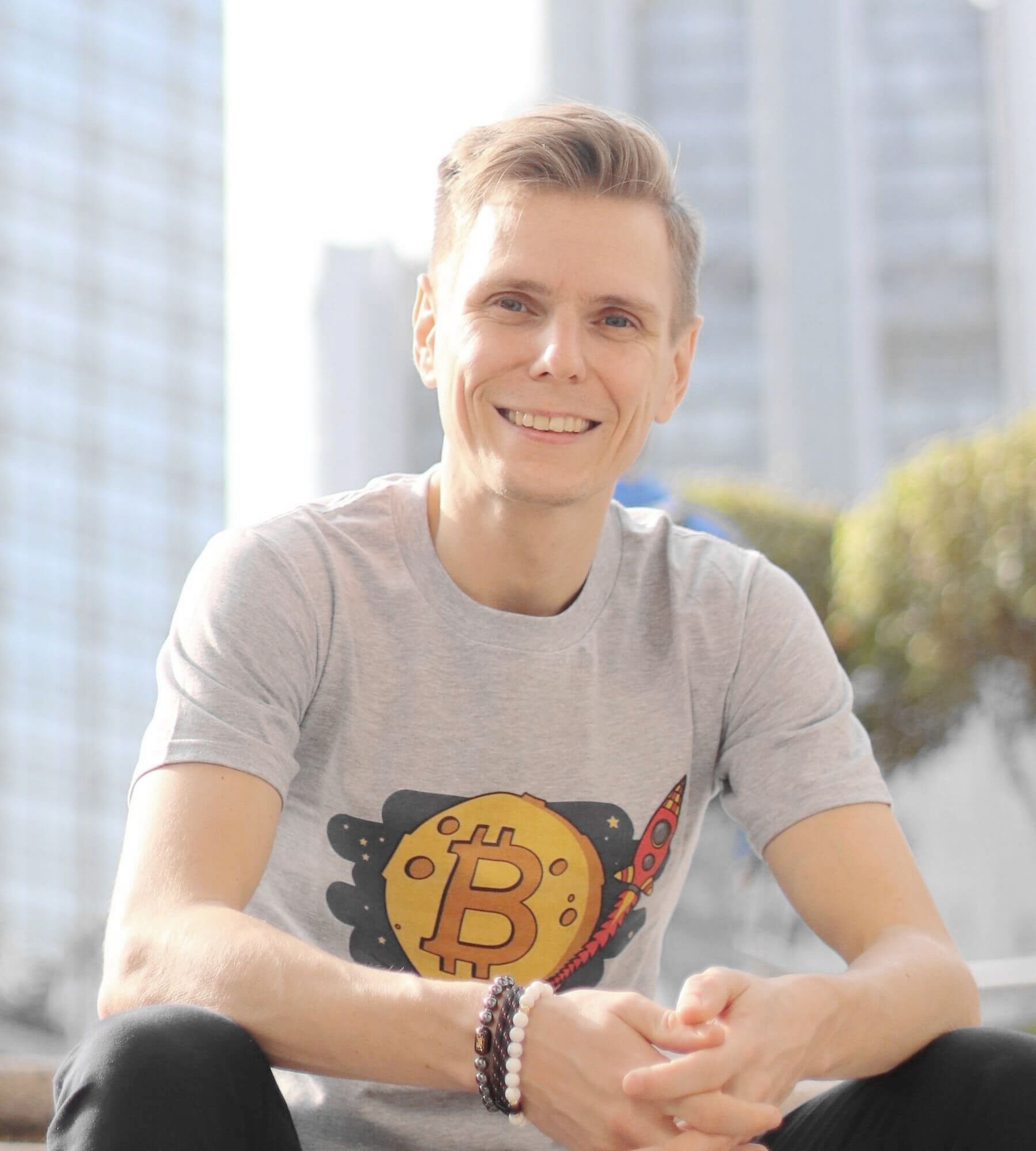 Thought about Bitcoin to the Moon Symbol
Why should you purchase and wear our t-shirt Bitcoin to the Moon?
Because Bitcoin is the best powerful invention since 2008. It's not just digital money, it's much more than you can imagine.
You may have heard Bitcoin news everywhere. Thus you can't stop ignoring it because you're part of nascent cryptosphere and you know you're in the right direction.
So, if someone asks you, why your t-shirt represents the rocket and Bitcoin symbol, here you will find an answer to return.
Let's break down your response into two stories.
1. Bitcoin Price
When someone doubts…
Is Bitcoin going to the moon?
What would you answer?
In order to give you a specific explanation, you may have known that the cryptocurrency market is quite volatile. Bitcoin price today is always different than Bitcoin price was yesterday.
For example:
Since January 2009 when the first Bitcoin (BTC) transaction was sent, the crypto market has passed through bullish and bearish dramatic stages.
Just look at this Bitcoin value history in $US:
Jan 2009 – Mar 2010: no value
Mar 2010: $0.003
July 2010: $0.08
8 July 2011: $31.00
Dec 2012: $13.00
11 April 2013: $266
Feb 2014: $550 – $750
Mar 2015: $200 – $300
January 2017: $800 – $1,150
August 2017: $4,400
6 November 2017: $7,300
15 December 2017: $17,900
17 December 2017: $19,783.06
14 November 2018: $5,590
4 January 2019: $3,820
4 April 2019: $5,256
Can you spot the fluctuation?
Or look at this Bitcoin history price infographic from 2009 to 2018.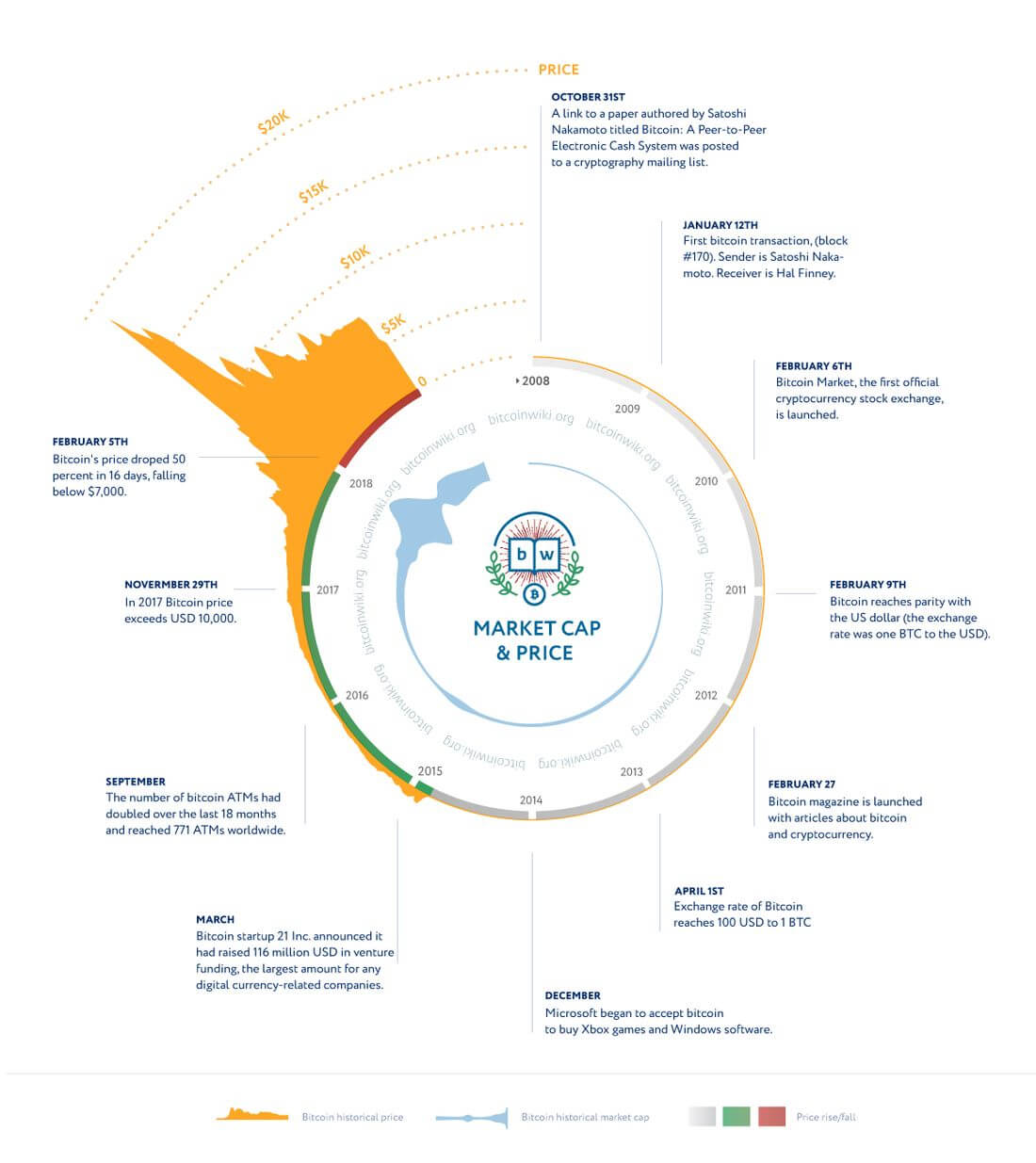 You get the point.
But back to our thought. Bitcoin was hitting ATM (all-time high) on 17 December 2017, where BTC was climbing closely to $20k.
And that's a great example of explanation why Bitcoin to the Moon. Because the cryptocurrency was skyrocketing to the moon.
Is it clear now?
However, Bitcoin is much more than just borderless transaction across the globe.
And this leads us to another part of the story…
2. Bitcoin and Blockchain Technology
Beyond Bitcoin is a technology that rewrites the evolution of the internet.
By wearing your future t-shirt you don't just support either investment or trading but you represent powerful idea called Blockchain too.
Most importantly, you represent decentralization.
Why is this essential to grasp?
Because blockchain is something like a database without any middlemen and fully under control of all of us.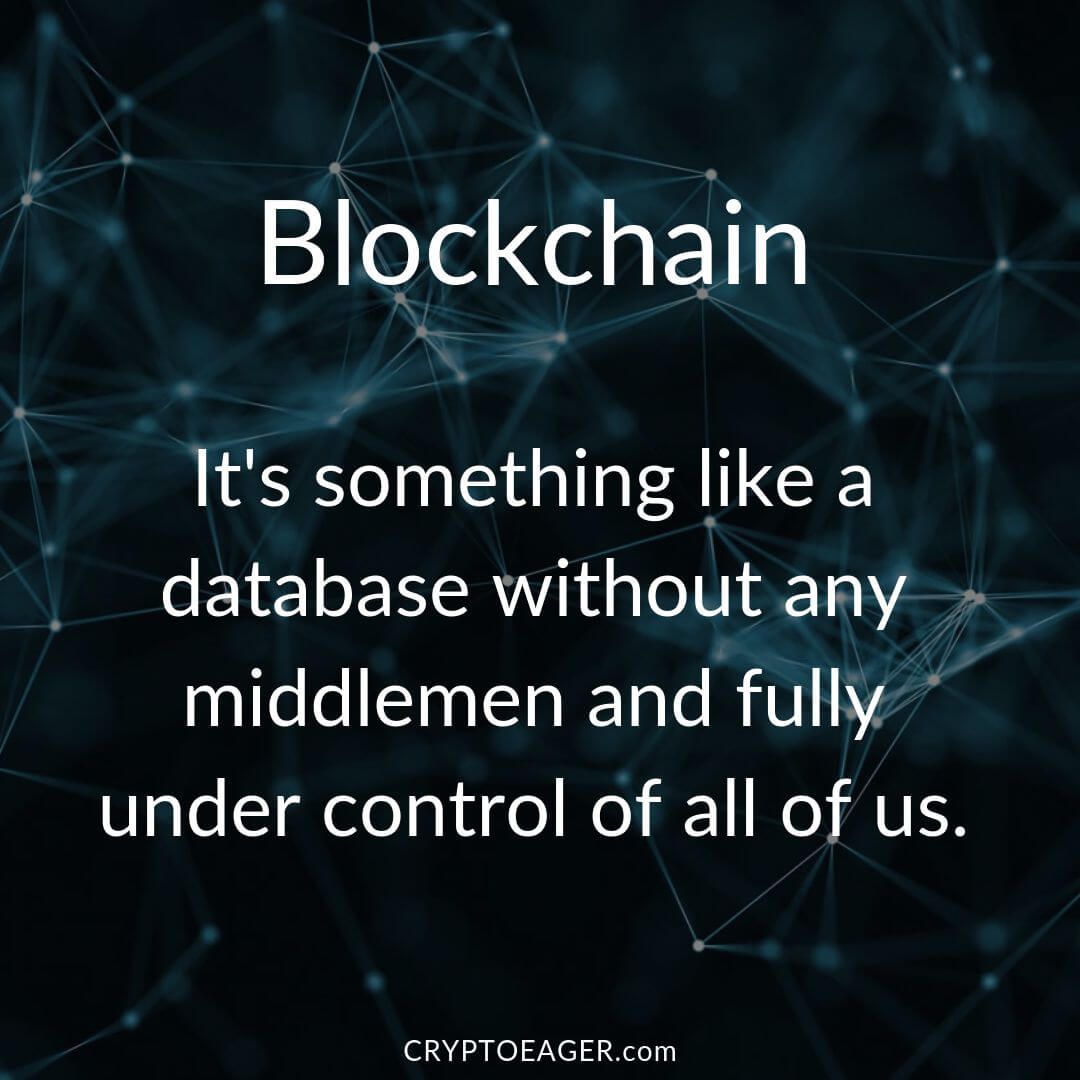 Traditionally, banks keep a record of all transactions on their own centralized ledger which is susceptible to manipulation by hackers.
But Bitcoin or any other decentralized applications keep all records on the blockchain. This means that identical copies of the ledger are kept on a distributed network of computers around the world. These computers check in with each other to ensure that their copy of their ledger is correct. If one of the copies don't match the others it's rejected and replaced with a copy that the majority of ledgers agree is correct.
It's a temptation with the blockchain to steal money but hackers would need to hack a majority of the computers on the network simultaneously which is a virtual impossibility.
Why does this matter?
Here is an example.
Centralized Banks and Corporates
Try to think about your daily needs of using your money. Whenever your lack of cash you go to ATM to withdraw banknotes. When you need some help, you call the bank or simply visit it in person.
But what about when you want to transfer your money abroad at the weekend? You have to wait for the bank's approval and for their business days too. The bank holds your money and you have no rights to do anything. It's called centralization.
Another example.
What about using social networks such as Facebook, Twitter or LinkedIn? These platforms are censored and centralized as well as banks.
Do you get the point?
Decentralized Applications
Until January 2009, every banking system was centralized. But then something changed. Bitcoin popped up on the internet. With Bitcoin invention, decentralization started rising across many industries.
And finally, we got our own ability to manage our money because of Bitcoin.
Tech people quickly recognized the potential of blockchain application and began developing other layers on top of it. Hundreds of cryptocurrencies have been created as well as social media, e-commerce or voting decentralized systems built on top of the blockchain.
Simply said, Bitcoin and Blockchain are soaring simultaneously to the moon.
And this way, you may easily explain why your t-shirt Bitcoin to the Moon reflects a larger scale of messages than others might think.
That said, from a technology perspective blockchain is boring but what is interesting is how blockchain is created. If you want to explore the matter of blockchain in plain English, I recommend watching this video of Andreas M. Antonopoulos.
After that, you will be able to explain why Bitcoin is going to the moon because of its blockchain technology beyond.
Bitcoin gives you the freedom and enables to take your finance into your own hands.
Now It's Your Best Time to Buy Bitcoin to the Moon T-shirt
Don't miss this chance to grasp our Bitcoin t-shirt and wear it everywhere you want.
Because once you walk in the street people recognize you as a real believer of Bitcoin ideology.
And this is exactly why your desire to buy crypto t-shirt such as this is.
Grasp your future cryptocurrency t-shirt and be CRYPTO EAGER geek!
In conclusion, share this product to all your crypto friends and when you purchase it, leave your review 😉
Bitcoin is geeky today, but it will change the world. Bitcoin to the Moon.