I have seen a lot of content on how cryptocurrency, most especially Bitcoin, might replace the regular cash as a means of payment.
In the beginning, I was going to conduct a little research on how effective this might be.
The truth is, I had pre-knowledge of what cryptocurrency was but I've never taken my time to sit down and consider it as a payment method.
Then it hit me…
"I have to answer the most important question on – how to pay with Bitcoin."
I wrote this article as a beginner's guide to help others like myself who might be confused about the adoption of Bitcoin as a payment method.
This article also answers your curiosity on questions which include but not limited to:
How to pay with Bitcoin anything?
Is Bitcoin widely accepted as a mode of payment?
Where and how can I store Bitcoin?
Can I make payment with Bitcoin without having a wallet?
etc.
Let 's jump right in:
What Is Bitcoin?
Before we dive in fully to how to pay with bitcoin anything, let me first introduce you to Bitcoin.
Bitcoin is a virtual currency that was created by an unknown person or group in 2008.
The first recorded and official use of Bitcoin to make payment was to purchase pizza just a few months after launch in 2008.
However, the first significant setback Bitcoin encountered was acceptance and awareness as the value depended on the basic theory of supply and demand.
That means the producers and consumers determine which direction the value moves in.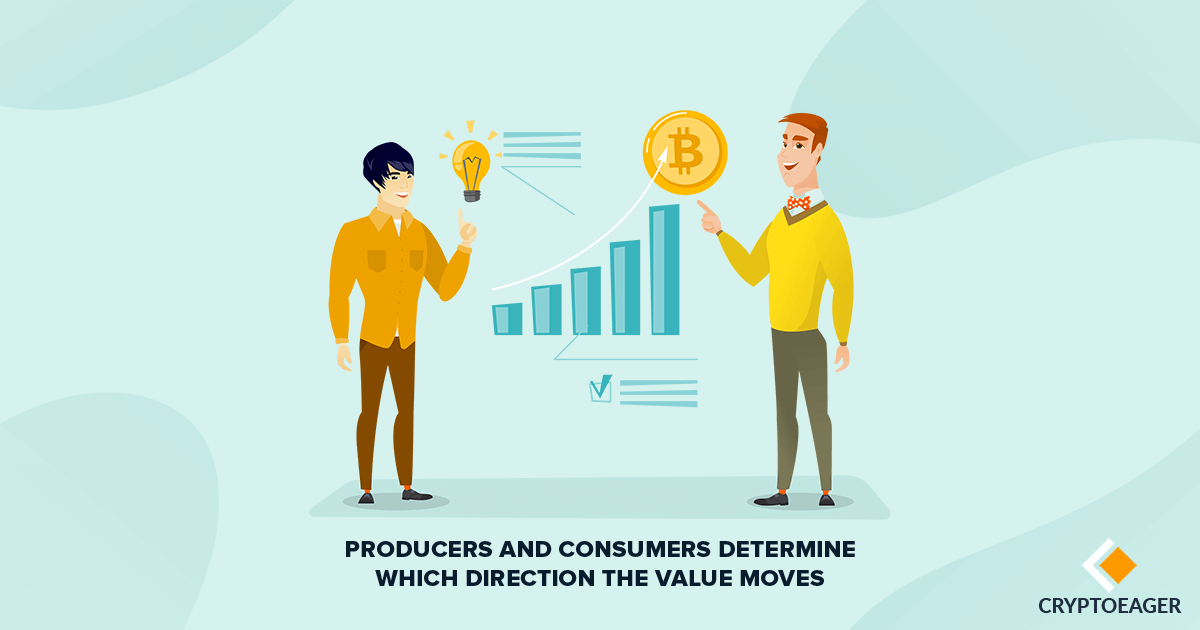 Now, let's recognize why a lot of experts have considered Bitcoin to be a viable replacement for the regular cash.
What Are The Advantages of Paying With Bitcoin?
I believe the same as you that Bitcoin is a better alternative to the traditional method of payment.
The first cryptocurrency, Bitcoin, was created to account for the deficiencies of the traditional means of payment.
The traditional means of payment was slow, lacks privacy, and has high charges on transactions.
Therefore, Bitcoin was born.
And some of the major benefits include.
1. Lower Transaction Fees
First of all, payment with Bitcoin is cheap when you compare it with other digital payment methods such as PayPal and credit cards.
However, the fee associated with each transaction is not constant and often varies based on the transaction volume.
Still, most charges related to paying with Bitcoin cost less or equal to 1% of its value. Whereas most digital payment charges can be as much as 2% or sometimes 3% of the value.
2. Anonymity and Privacy
Fiat currency in an online account, credit card payment, and PayPal transactions don't provide users with the privacy and anonymity that most desire.
Most online accounts are secure, but it is easy for the government to track how you spend your money, which makes it more worrisome.
On the other end, Bitcoin was built in such a way to protect users' identities without affecting the security of the accounts.
With Bitcoin, it is easy to separate your public life from your Bitcoin accounts.
Although it is possible to track transactions between users, it is, however, difficult to figure out the users at the sending and the receiving end.
3. Decentralization
With Bitcoin, there is no central authority that can manipulate the rise and fall in the value.
This reduces the risk of manipulations in the value, which you can mostly experience with fiat currencies.
Since Bitcoin exists outside all political systems, it is harder for the government to seize or freeze your Bitcoin.
4. Accessibility
Furthermore, your transactions involving Bitcoin can be quickly completed on your smartphone or computer.
This means that Bitcoin is available to all populations in the world without the need for traditional banking systems.
5. Peer-to-Peer Focus
Here is a big idea.
Payment with Bitcoin happens without requiring approval from any external source of authority.
The Bitcoin payment system is a peer-to-peer one, which implies that you can send and receive payments to or from anyone on the network all over the world.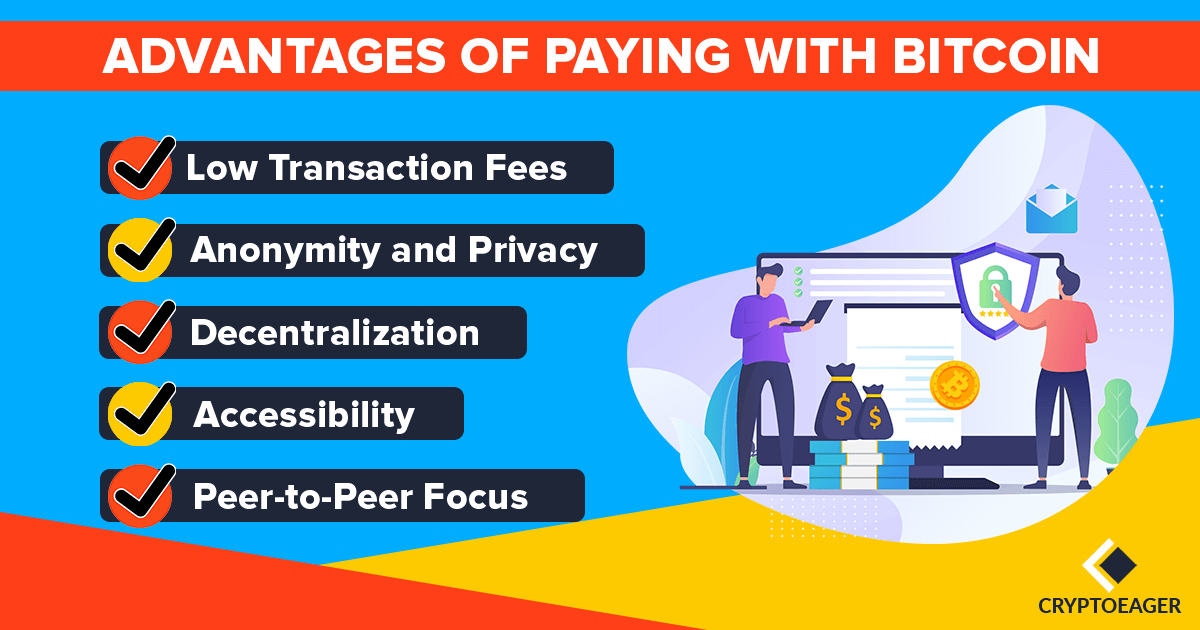 You see, with five benefits listed above, I can now thoroughly introduce you to how to buy and how to pay with Bitcoin.
It is, however, important to note that not all industries accept Bitcoin as a valid method of payment currently.
How To Buy Bitcoin
There are many ways of buying Bitcoin, which includes peer-to-peer, cryptocurrency exchanges, and PayPal.
As you may have recognized, the safest and prominent way of buying Bitcoin in the present world is through cryptocurrency exchanges.
Cryptocurrency exchanges list cryptocurrency-based projects on their platforms which give users like you the ability to invest in them.
And in this section, I'm going to focus on buying Bitcoin with PayPal.
Why?
Because even today it's incredibly challenging to find reliable places where you can utilize your PayPal account to buy your first fraction of Bitcoin.
So below, you will find some of the most common ways.
Buy Bitcoin With PayPal
The most popular and easiest way you could have bought Bitcoin with PayPal was through VirWoX (Virtual World Exchange).
However, the website recently shut down its PayPal deposits option in January 2020. This development has made it harder for you to buy Bitcoin using PayPal.
The other available exchanges that are reliable and accept Bitcoin as their valid means of payment for buying Bitcoin include eToro, xCoins, Paxful, and LocalBitcoins.
Let's briefly describe each of them.
eToro
The fact is, eToro, limits things that you can do on PayPal.
However, you can easily buy Bitcoin using PayPal on the Platform.
On the one hand, eToro is not available worldwide.
On the other hand, the profits that you can make on the exchange can be withdrawn in fiat currency and to the eToro wallet.
LocalBitcoins
On the other hand, LocalBitcoins is a platform that allows users to connect directly. The exchange is a marketplace where buyers like you and sellers can communicate directly, unlike eToro.
As this can be a significant advantage, it also leaves users to worry about the seller's credibility when transacting.
But the fees charged on LocalBitcoins are slightly higher than at eToro.
xCoins
xCoins is an exchange that doesn't deal directly with buying and selling of Bitcoin but rather exchanges loans out of Bitcoin to users.
To loan Bitcoin on the transaction, xCoins exchange requires deposit fiat currency (PayPal is an available option) equivalent to the Bitcoin to be borrowed.
Paxful
The last exchange that allows the option of buying Bitcoin with PayPal is Paxful.
The first step to buying Bitcoin on Paxful requires users to create a free wallet on the exchange before they can buy.
Paxful also gives the user the autonomy to choose their seller or allow the exchange to select one for them.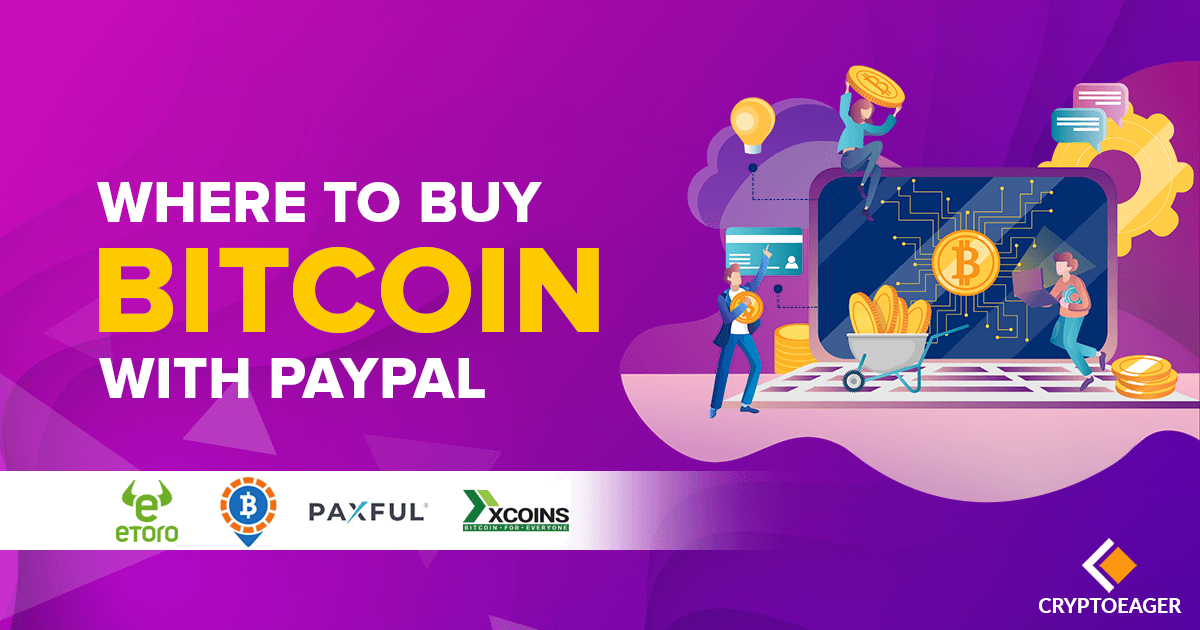 Since you can now buy Bitcoin on your own, we can move to the main topic of this beginner's guide – How to pay with Bitcoin.
The following steps will introduce you to how you can use your Bitcoin to pay for any products or services.
How To Pay With Bitcoin
Paying with Bitcoin requires you to first possess Bitcoin.
Just like the regular fiat currency where you need to have a physical presence for the transaction, you also need to have a wallet to store your Bitcoin. 
Several stores now allow Bitcoin as a valid means of payment.
To pay with Bitcoin in a store, all you need is to scan the barcode of the store, which will generate the Bitcoin wallet to which the payment will be made.
It's that simple…
And now, the question:
Where Can You Pay With Bitcoin?
The number of online and offline stores that allow customers to pay with Bitcoin continues to increase daily. You can pay with Bitcoin in many industries, which include tech, travel, stores, and so on.
Some of the top companies where you can pay with Bitcoin include:
Microsoft
One of the first and largest tech giants allows you to make official payments with Bitcoin for some of their top products.
For products like movies, games, apps, Windows licenses, and others, you can pay with Bitcoin.
Overstock
As you may have known, Overstock is one of the first biggest online retailers that allow customers to make payments with Bitcoin.
This giant internet retailer started accepting Bitcoin as a valid mode of payment in 2014.
You can pay for electronics such as TV, computers, and home appliances on the store using Bitcoin.
Expedia
Expedia is one of the most prominent traveling and online travel booking agencies.
It started accepting Bitcoin as payment for flights in 2014.
The organization collaborated with Coinbase to incorporate paying with Bitcoin into its payment options and Coinbase served as an intermediary.
Although the organization stopped accepting cryptocurrency as a valid method of payment recently, there are future plans in place to review that.
Destinia
Destinia is a Spanish travel agency and also, one of the top virtual travel agencies in the world.
The organization regularly strives to improve its user experience.
This has led to the latest incorporation of "pay with Bitcoin" as a mode of payment for trips.
Newegg
Needless to say, Newegg is a top gun in the electronics retail industry.
The online retailer accepts Bitcoin as the legal form of payment by partnering with BitPay as its payment processing partner.
Shopify
The number of Shopify stores in the world continues to increase drastically.
Shopify is a leading e-commerce platform that allows users from all over the world to set up their online stores.
Although it is impossible to buy anything with Bitcoin itself, Shopify enables alternative payment providers such as Coinbase commerce that make it possible to pay with Bitcoin.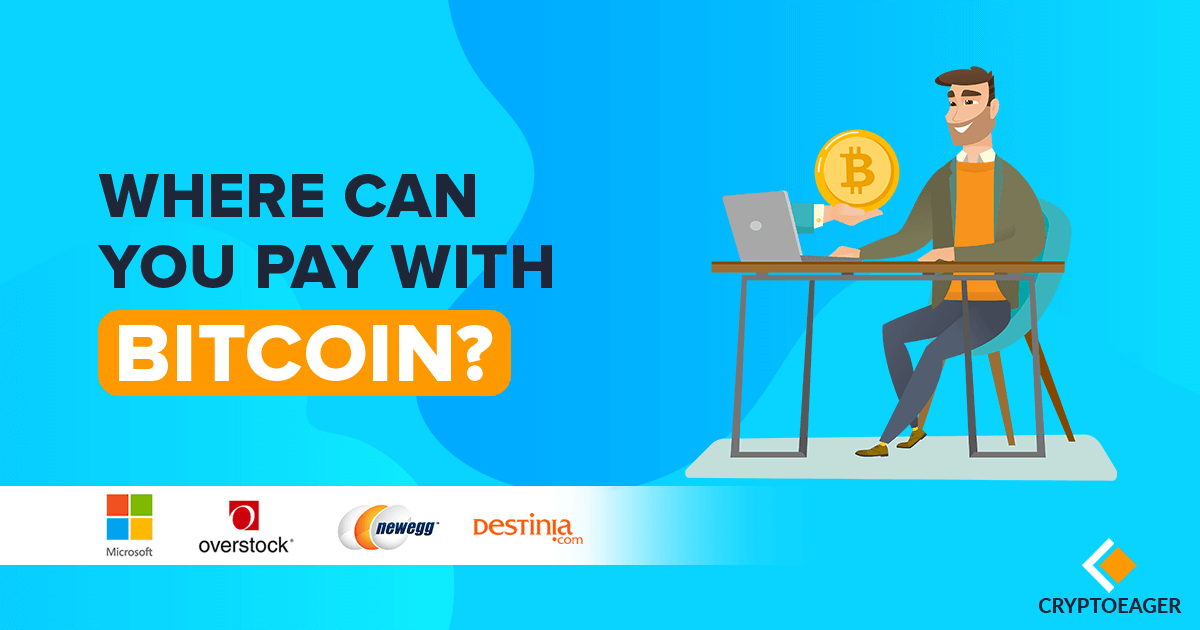 Here is a quick bonus, you must be wondering why I didn't add eBay as one of the leading stores that allow payment with Bitcoin.
So…
Does eBay Accept Bitcoin?
As you know, eBay is a global marketplace with over 170 million users. But unfortunately, this American multinational e-commerce corporation doesn't support Bitcoin payment for a purchase in the store.
I could go on and on but these are the most reputable organizations in the varying industrial world that serve as a guarantee of the potential Bitcoin has in the future.
Next, you need to know that it is important to store your Bitcoin into your wallet so as to make payments with them when necessary.
On a second note, I haven't introduced you to how to store your Bitcoin, so let's go briefly into that.
Where To Store Bitcoin
Simply said, storing fiat currencies in the bank requires you to open an account that keeps a record of all your transactions.
A Bitcoin wallet is similar to this; it is an account that shows a history of all of your purchases.
Two main components make up a Bitcoin wallet:
The public key
The private key
You can liken the public key to an account number.
When you need to receive cash into your account, you need to provide the sender with your account number. The public key works exactly like that. There is no threat to your account by giving them out.
On the other hand, the private key contains all the information about your wallet. You can compare it to an account password. Giving it out poses a threat to your account. Therefore, the private key must stay private and for the wallet's owners only.
There are several types of wallets. They include mobile, online, desktop, and paper wallets.
The most secure wallet is the paper wallet, while the online wallet is the most easily accessible.
For example:
Bitwage is an example of such an intermediary. The only details needed to make payment is the wallet address you are making the payment to.
During the course of my research, I've discovered that there were many questions about whether it is possible to pay with Bitcoin without a wallet.
So I decided to add this to the topic.
Can I Pay With Bitcoin Without a Wallet?
As you may have read above, the easiest way to pay with Bitcoin is to have a wallet. And the most popular wallet used by the crypto community is the online wallet, which is what you find on exchanges.
However, there are a few ways that you can pay in Bitcoin without having a wallet. But it is important to note that some of these ways may come with additional charges.
To make payment with Bitcoin without a wallet, you need a third-party merchant who serves as an intermediary in this case. That way, you can pay the merchant in fiat currency, and they make the payments for you.
Another popular option is PayPal; you can convert your PayPal cash to Bitcoin when making payments. Paying with PayPal can come with additional charges higher than Bitwage.
It is also possible to find a Bitcoin holder ready to sell to make payments for you. This, in most cases, takes a lot of time and can be dangerous as there is no valid means to check the credibility of the seller.
The good news is:
In the modern world, the Cash App has found wide usage as it allows you to transfer cash and receive cash. In a world where the usage of the Cash App has increased, I was thinking, is the Bitcoin payment method integrated into it?
You bet!
How Do I Pay With Bitcoin On The Cash App?
You can easily make payment with Bitcoin on the Cash App.
Nevertheless, before payment, it is essential to have a balance in the app. Also, it is possible to sell Bitcoin that you purchased in your Cash App. Paying with Bitcoin on the Cash app additionally attracts charges which can vary based on the price volatility across US exchanges.
Remember:
With all options on how to buy and how to pay with cryptocurrency, it is important to view the link between the virtual currency and the traditional one.
That was actually the reason why Bitcoin was born – to transfer money.
How To Transfer Money With Bitcoin
Although Bitcoin is a virtual currency still, it has a value that is equivalent and can be evaluated using the traditional currency.
To transfer money using Bitcoin, all you have to do is calculate the Bitcoin worth of the money you need to transfer and send the worth to the recipient wallet.
You might wonder how hard it is to convert your cash to Bitcoin since little calculation is involved.
It is actually quite easy as there are dedicated online applications such as Google Bitcoin converter that help with this calculation. And all you have to do is input the amount of currency you want to transfer.
Now, since I have shown you that there is, in fact, a link between the conventional cash and virtual currency, it is equally important to know how much your Bitcoin is worth in the regular currency to make payments.
How Much Is Bitcoin Worth In The Regular Currency?
The most used and trustworthy online software that can convert your Bitcoin to the regular currency is the Google Bitcoin converter.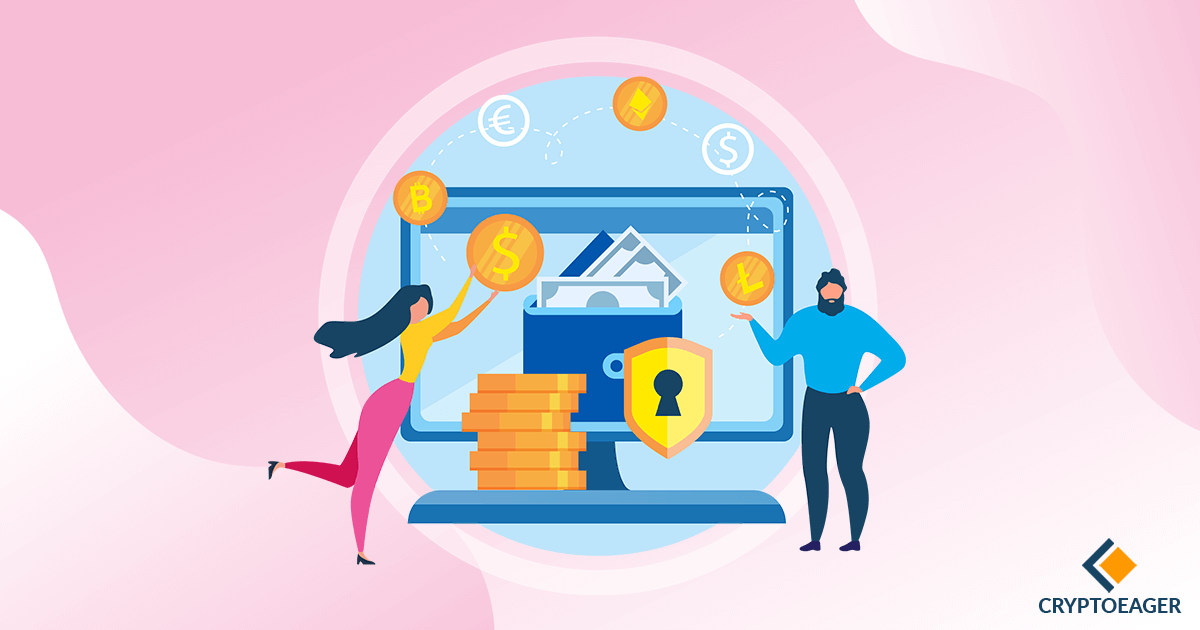 The Google Bitcoin converter works in two ways; it can convert your Bitcoin to the regular currency and also work vice versa.
That's it, is that simple.
Now, when we've reached almost the end of this guide I want you to remember these quick takeaways.
To Pay with Bitcoin is easy; you have 24-hours access to your wallet and transactions are completed in minutes.
Although not all organizations give the option to pay with Bitcoin, the numbers continue to increase daily.
There is, in fact, a link between Bitcoin and regular cash.
Bitcoin can be a suitable substitute for regular cash.
Summing It Up
In conclusion, just like I have discovered over the course of this beginner's guide, making a payment with Bitcoin is not as complicated as many anticipated.
Actually, it feels more comfortable and convenient to make payments with Bitcoin coupled with the low fees and the privacy it provides.
The future will tell if Bitcoin can take over from regular cash.
However, the rate at which Bitcoin continues to penetrate every industry is amazing.
All thanks to this guide, now, you can comfortably buy and understand how to pay with Bitcoin without any form of assistance.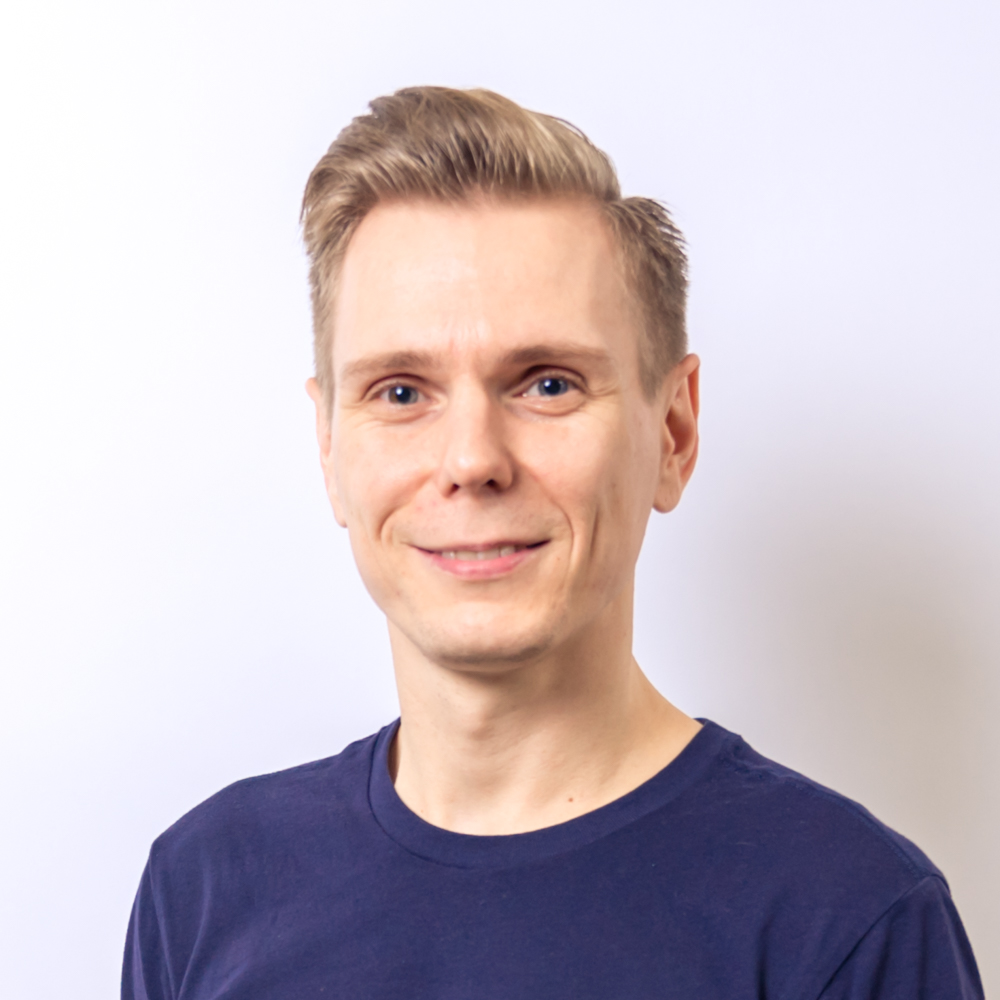 Pat Vlastimil Cicha better-known by his personal brand name Pat VC is an Elite-SEO Strategist for digital asset businesses and blockchain companies. Pat VC has been called one of the brightest and most passionate advocates of SEO by Hong Kong digital experts. He's a founder of the CryptoEager blog and a professional investor.